Nasir Glass Industries Limited (Float Glass) (NGIL)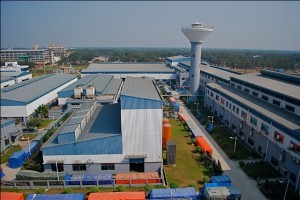 NGIL is a multi-functional float glass complex set up with a dream. Sprawled over 23 acres of lush green land at Joinabazar, Sreepur, Gazipur, Bangladesh, NGIL has a buitt-up area of over half a million square feet with some structures rising over 80 feet. With 37 meters (121 feet) high imposing water tower and 75 meters (246 feet) lofty chimney, NGIL presents a panoramic view of eloquent beauty with impressive grandeur. Dotted by architecturally attractive workstations surrounded by elegantly crafted paths which are landscaped by intertwined trees, shrubs and lawns, the factory is an ecological dream.
Process: Fully automated with strict process control at every step from sand processing to finished ware, backed up by highly trained and experienced professionals.
Quality: International ; Strictly conforms to Chines National Standards GB11614-1999 and GB/T 18701-2002 and Japanese National Standard J/S R3202.
Price: Competitive; attractive discount for big orders.
Price for query…
NGIL uses the best technologies and the manufacturing process is strictly controlled by the certified and skilled experts to ensure the international standard.
Products:
Float Glass (Clear &Tinted) : 100,000 MT/Annum/Under expansion
Shade: clear, coffee bronze, Dark Gray, Ocean Blue, Green.
Tempered Sheets: Clear/Tinted/Coated
Coated/Reflective sheets: Varieties of shades on clear/tinted glass by sputtering as well as by CVD on-line process.
Mirrors: Standard sizes; Thickness 3, 4 & 5 mm; excellent finish.
Thickness range: 3mm to 12mm (2mm also possible)
Sizes of glass Product cut on line: Large size 84̋ X 144̋
Medium size 84̋ X 72̋
Small Size 42̋ X48̋
Other Sizes On Request As Permissible.
Address : Nagor Hawla, Joina Bazar, Sreepur, Gazipur.
Glass Processing

MC

Furnace

Admin Building

Nasir Glass Gate-2

Nasir Glass Main Gate