Nasir Energy Saving Lamp Industries Ltd (NESLIL)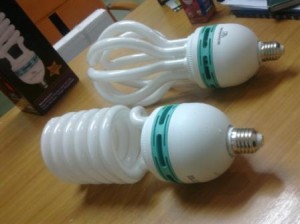 Nasir Energy Saving Lamp Industries Ltd (NESLIL) is a part of Nasir Group of Industries. We manufacture the best quality energy saving lamp using the best technology & technicians. Our extensive collection of energy saving lamp offers a wide range of earth friendly alternatives to the traditional lamps in your home and business centers.
It is for the first time in Bangladesh that the CFL lighting products are being made, starting from the basic components like glass tubes, stems, filaments. Phosphors, Plastic holders, electronic components, metallic caps etc. using automatic machines of latest editions.
Type of business
: Electric lamp manufacturing
Products
: Spiral, Lotus and U types
Wattage range
: 5W to 65W, different denominations
Designed Capacity
: 40,000 pc lamps/day

Major Forming Machines

: Glass tube cutting & sorting, Auto tube & leg bending, Powder coating and baking, Auto sealing Auto Exhausting with mercury

injecting,

Ageing P

lastic holder making, Electronic Ballast assembly line, Metallic cap crimping, Printing etc, machineries together with final complete Assembly lines.

Process
: Partially automated process with strict process control at every step of manufacture. There is warranty on all products.
Quality Control
: International standard; Strict quality control with respect to Luminous flux,
color temp, rendering index, ballast wattage etc.
Price
: Competitive; attractive discount for big orders; durable carton packing with colorful prints. Price on query.
Adress : Gorai, Mirzapur, Tangail.